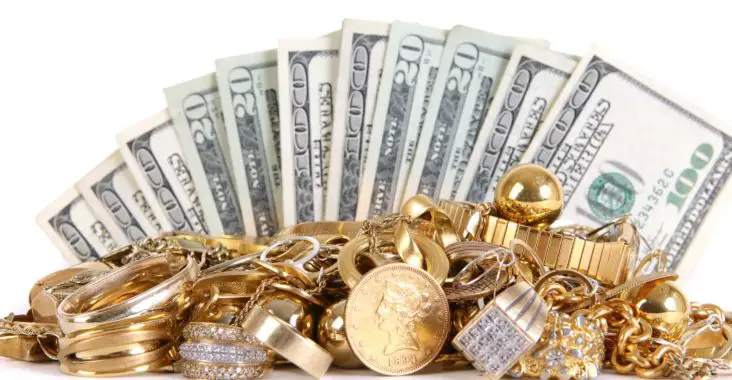 Owning jewelry, whether it's worth just several thousand dollars or a full $500,000 can help you if you're in need of cash right away. If your jewelry is a special gift or a family heirloom, you don't have to sell it to get cash. Since diamonds and other similar jewelry pieces are very valuable, you can take out loans against them which may be more favorable and less of a hassle than loans such as unsecured bank loans, home equity loans or other high principal and high interest rate loans. There are several ways you can secure a loan with jewelry as listed by Pocket Sense, and you'll need to decide which is most worth the value of your jewelry and your time.
Pawning Your Jewelry
The pawn shop is probably the first-place people go to get cash loans for jewelry, and if the jewelry isn't worth that much, it may be the best place to go. But before you decide to pawn diamond ring here, be aware of a few things. Pawn shops usually loan out less than half of your diamonds' amount. And even though there are regulations on their interest rates, they do sometimes find loopholes in those regulations. Usually pawning diamonds is best if you only need some cash for a short period.
Taking Out A Bank Loan On Your Jewelry
While not every bank will do this, some will issue secured loans on jewelry if it has a high enough value. Your jewelry will be much more secured when stored at a bank, and your loan will usually be a higher amount with a lower interest APR than a pawn shop. A bank loan is definitely a better way to go if you want more cash for more valuable jewelry but be aware you may need to get your jewelry appraised first. Having diamonds appraised will cost you, but as the Washington Post says in this article, you can usually get good appraisal deals if you go with an appraiser affiliated with the American Society of Appraisers or a similar organization.
Working With A Jewelry Lender
There are lenders who specifically issue loans for jewelry and know what they're working with. These lenders are sometimes called jewelry pawns, but they are usually much better because they give you higher loan amounts with lower interest rates and more time to pay. These lenders also have highly secure storage locations and in some cases even store it in bank vaults, but they're usually less of a hassle to get a loan from than banks. They will also appraise your diamonds on-site.
In conclusion, a certified jewelry lender usually is the best way to go if you want to get the best jewelry loan deal. You do need to have the proper identification as well as fill in the proper forms so that the lender knows that jewelry is in fact yours and does not have a lien on it. You also should do background checks on any lender to make sure they don't engage in shady practices.